Strength in Education Scholarship Recipients
2015 Strength in Education2015
Strength in Education Scholarship Recipient
Ms. Morgan Shiever, Alva High School
Security Benefit, in partnership with Oklahoma ASBO, granted a one-time $1,500 per year ($750 per academic semester) scholarship to
Morgan Shiever, a graduate of Alva High School. Congratulations, Morgan!
---
In her own words: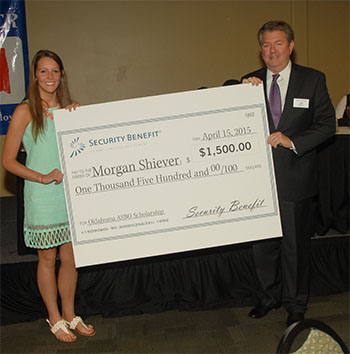 My career of choice that I would like to pursue is physical therapy. I have chosen this career path because I had had to attend many physical therapy sessions. I have three bulging discs in my back and degenerative disc disease. Physical therapy helped me improve the strength in my back and my core so I could play sports again.
Four years ago I did not think I would ever be able to play basketball again, but with the help of my physical therapist, I am playing with very few problems. Being a physical therapist would provide me the opportunity to help and strengthen others.
My goal is to open my own business of physical therapy and work in schools as well. I would to help the children who have disabilities that may need help walking or doing other activities. I would strengthen them physically and I would help and encourage them mentally. I would not help them at school, I would talk with parents and give them lists of exercises they could do at home.
Physical activity is also very important in the health of kids so I would try to make a program for the physical education teacher that would focus on increasing the activity in their physical educations class in a fun manner. I will work very hard to get to this to the point while I am in college.
I have been taking more challenging classes to prepare me for college. One of these classes is the Bio-medical Program that I am enrolled in at the Northwest Technology Center. This class has already made a positive impact on me as a student. I have learned so much and have worked on experiments that most students in high school would not get to participate in. I have learned several lessons in Biomed that will aide me in my career. I have increased my ability to talk and communicate with others for future jobs.
My teacher brings in different doctors and others in the medical field from around the area and we do presentations in front of them. This helped me tremendously in my social skills and I will be able to use this skill in the future.
As a physical therapist you must be able to communicate with your patients. I am ready to work hard and give maximum effort to make my career plan come true.
---
Past Recipients
2014 Kai Jorgensen - Byng High School
2013 Christina Cole - Norman North High School